Rajasthan to facilitate accommodations in rural areas offering an authentic local experience
Rajasthan, the land of maharajas and fortified opulence has been the hub for a plethora of travellers seeking delight in medieval architecture. Dr Rashmi Sharma, IAS, Director of Tourism, Rajasthan enlightens us with the new trends followed by Rajasthan Tourism to enhance travellers' experience since it has picked up momentum
By Aanchal Sachdeva
Considering India as one of the countries with diverse cultures, what are the major crowd pullers for tourists that Rajasthan possesses?
Rajasthan has everything that makes it a different and most sought-after destination. Be it the six 'Hill Forts of Rajasthan' that have been included in World Heritage sites by UNESCO: Chittorgarh, Kumbhalgarh, Jaisalmer, Ranthambhore, Gagron in Jhalawar and Amber (Jaipur), or the Havelis of Shekhawati that has work of art painted on them, tourists have always loved exploring these ancient palaces that are surreal. Apart from palaces, another crowd-puller would be the Dilwara Temple set in the scenic locales of Mount Abu. Known for its exquisite cravings, this temple has been the centre of attraction for tourists. For those who want to explore architectural wonder, for them, the 'Chand Baori' or stepwell in Abhaneri village that was built in the 9th century is a must-visit.
Why only forts, palaces, temples, and cuisine of Rajasthan quite popular among tourists, be it Daal-Baati Churma, Lal Maas, Ker-Sangri, or Mirchi Badas, tourists savour these authentical traditional delicacies and would be other crowd pullers.
While tourists are mostly aware of the places they have to visit when they are in Rajasthan, there are a few unexplored places that would be highlighted and act as a crowd puller. Some of these places are Banswara also known as 'Cherrapunji of Rajasthan', the magnificent fort of Bhangarh, palaces of Dungarpur that has stone jharokhas that makes them different from other palaces.
State the game changers for Rajasthan Tourism that we can expect with the new year.
In the coming year, we are focusing on different festivals such as the Marwar festival, Chandrabhaga Fair, Matsya Festival, Bundi Festival, Pushkar Fair, Kumbhalgarh Festival, and Ranakpur Festival. Through these festivals, Rajasthan Tourism is trying to promote and showcase the culture, tradition and heritage of Rajasthan, similarly regularly we engage & associated many events like the Literature festival, Jahan-E Khusrau, Polo Awards etc. Tourists have always been attracted and attend these festivals in leap and bound and in the coming year too, our focus would be increasing the footfall even more.
Apart from festivals, wildlife experience is something that can act as a game changer. Be it Ranthambore National Park which houses tigers and over 300 bird and animal species, or Sariska Tiger Reserve popular for tiger safaris, wildlife tourism would help boost tourism.
Other popular sanctuaries and parks are Kumbhalgarh Wildlife Sanctuary, Mukundara Tiger Reserve, Tal Chhapar Sanctuary, Jhalana Safari and Keoladeo Ghana National park.
What sustainable tourism initiative is Rajasthan Tourism taking since tourism has picked up momentum this year?
When it comes to sustainable tourism, Rajasthan Government follows one motto 'responsible travel to natural areas that conserves the environment and improves the well-being of local people. Different activities that will be permitted under sustainable tourism are trekking, nature walks, bird and wildlife watching, hiking flora and fauna, boating, star gazing, focus on fairs and festivals to promote local traditions, lodging in campsites, eco-lodges to promote and increase the income of local communities.
We have been trying to reduce the negative impacts of tourism in overexposed areas by diverting traffic to lesser-explored destinations.
To promote sustainable tourism, Rajasthan Government has initiated different awards in sustainable categories such as the recently held 'The Indian Responsible Tourism State Awards 2022' and many other awards in categories like Energy-efficiency, Water–efficiency and hotel eco-friendly.
Local business owners, across all fields of tourism in the state, received awards under various categories, including- Sustainable Leadership, Sustainable Leadership: Homestays, Sustainable Leadership, Heritage Conservation and Wildlife Conservation.
The Rajasthan government is planning to initiate many such awards in the future as well.
What different and exquisite experiences is your state providing for domestic and international tourists making them feel at home?
Rajasthan is popularly known for its warm hospitality and slogan 'Padharo Mhare Des'. Not only the slogan but the Government of Rajasthan has issued different guidelines that would create a safe and comfortable environment for domestic as well as international tourists.
Some of the rules are only commercial vehicles in good condition and comprehensive insurance must be provided to tourists, the driver employed for tourists' vehicle must be decently dressed and have good communication skills, the service provider must ensure that the place of operation is neat, clean and hygienic, the service provider must ensure total security of tourists, among others.
When it comes to exquisite experiences, from forts, palaces, temples, wildlife safaris, and wedding destinations, Rajasthan has a variety on a platter to offer.
With the growing trend of Homestay Tourism, what is your opinion on the share of the footfall of tourists travelling to India in search of uniquely local experiences giving them a chance to spend time with local families this year?
Whether exchange programmes or tourists wanting to have a local rural experience, the Rajasthan government is helping facilitate and encourage stakeholders to create accommodations in villages and rural areas offering authentic local experience.
State government supports cultural exchange travels that help tourists discover a city or region: the language, traditions and history, to gain the local's perspective or even master the skills and crafts for which they are known.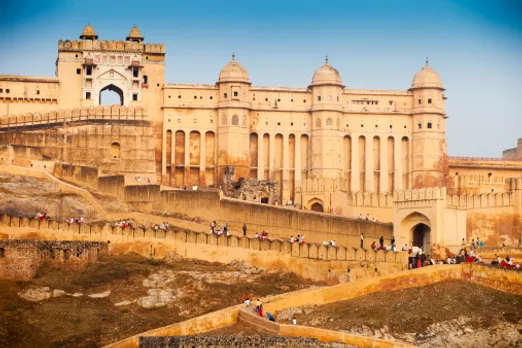 Beautiful Amber Fort in Morning Light. Jaipur, India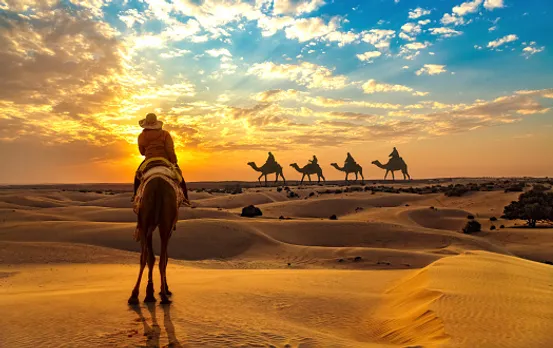 Female tourist on camel safari at the Thar desert Jaisalmer Rajasthan at sunset with view of camel caravan over the horizon.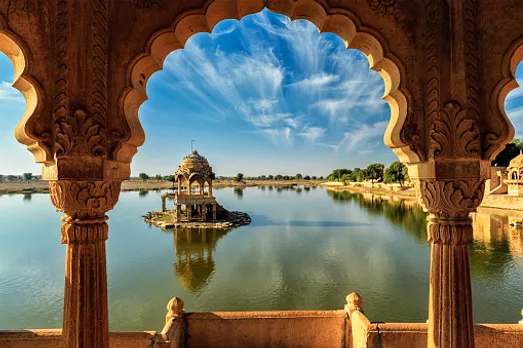 Indian landmark Gadi Sagar - artificial lake view through arch. Jaisalmer, Rajasthan, India