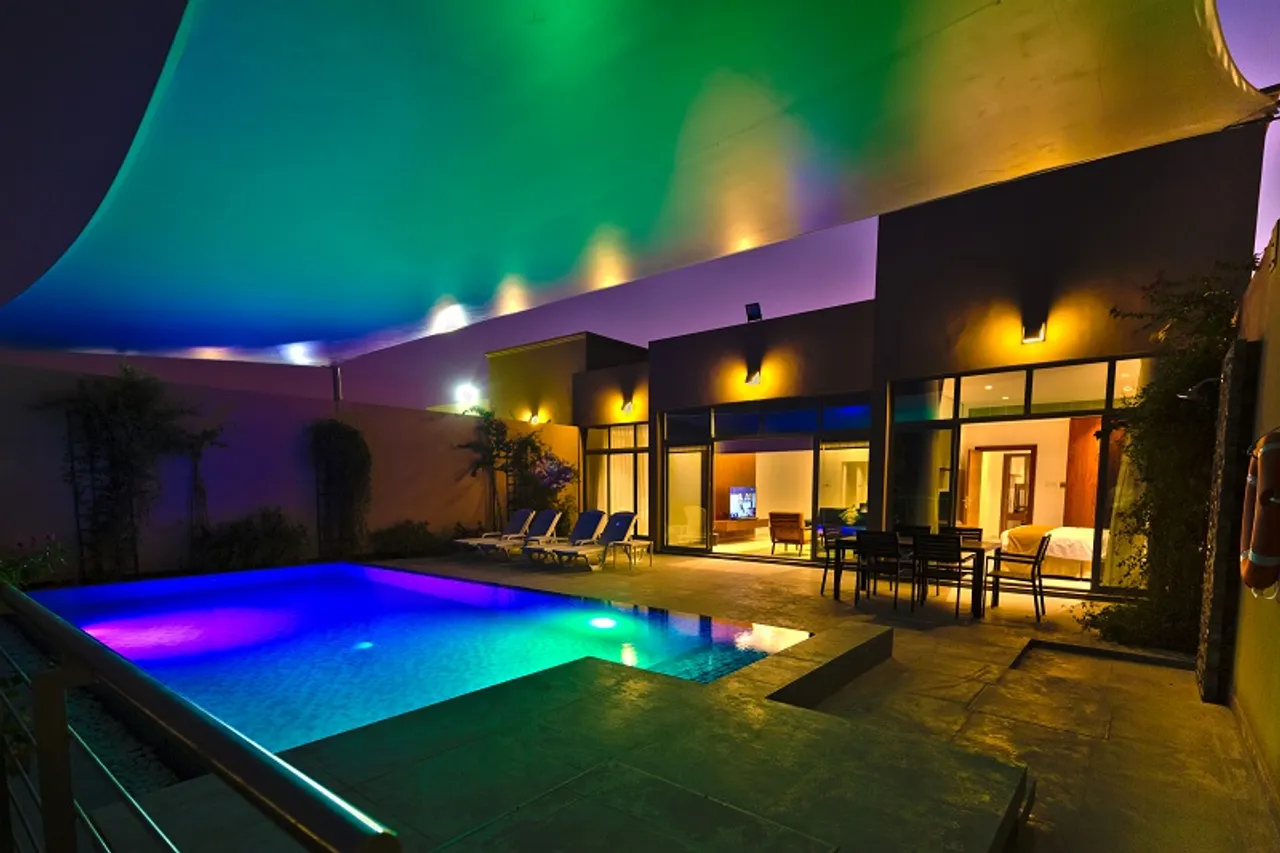 Indulge in pure luxury and seclusion as you discover a unique blend of style and relaxation. Jaw Resort & Spa offers guests complete privacy and a peaceful getaway. Located in Bahrain's Southern
Governorate and overlooking the stunning turquoise sea, Jaw Resort & Spa features beach-front and Sea View Luxury Villas.
Live life king size
Jaw Resort & Spa features One-Bedroom and Two-Bedroom Luxury Villas, Three Bedroom Premier Lagoon View Villas, and astonishing Three Bedroom Beachfront Sunrise Villas. All 41 Villas provide complete privacy, each with their Private Swimming Pool and a spacious Patio. Built to blend in perfect harmony with the surrounding Sea & Sand, the list of indulgences that awaits you at Jaw Resort & Spa can only be matched by the captivating crystal blue waters along a 200-meter-long stretch of its Private White Sandy Beach and an unrivalled level of comfort and a personalised
holiday experience.
Detox inside out
Inspired by nature and tradition, Refresh Spa & Fitness at Jaw Resort & Spa offers a tranquil retreat with Signature Spa Treatments highlighting local ingredients and healing rituals, featuring a steam
room and sauna. Take a break and find your equilibrium at our Refresh Spa to de-stress like never before.
At Refresh Spa & Fitness, we help you reconnect with yourself, others and the world around you. Only when we reconnect with ourselves will our connections with others become truly
meaningful. We are committed to delivering integrated wellness experiences and providing guidance and inspiration to allow our guests to gain a new perspective and make positive lifestyle changes. These experiences are delivered in some of the most beautiful locations, inspired by our heritage but influenced
by the local environment and culture. Our local sensibility is evident in the products we choose, the treatments we design and the sustainable practices we implement. This approach enables us to
maintain a closer connection with nature and the surrounding world.
Treat your taste buds
Choose from a mouthwatering variety of cuisines at Al Bareh Restaurant, the resort's Seafront All Day Dining Restaurant and the awe-inspiring My View Ocean Lounge with 360-degree views of the sea. Voted as one of the best Romantic spots in the Kingdom of Bahrain, Jaw Resort & Spa offers a complete spectrum of comfort and seaside activities, making it the perfect getaway for you and your family. Enjoy the view sipping refreshing mocktails by the shore or perfecting your tan in one of our beach cabanas.
Al Bareh explores the global side of Middle Eastern cuisine with Asian
and Western influences. Chill inside or outside the restaurant's beachside setting with panoramic ocean views, as you explore delicacies with a mouthwatering twist. Offering indoor as well as outdoor seating, the restaurant can accommodate about 80 persons at once.
My View Lounge
Famous for its amazing view and location, this restaurant offers an extraordinary dining experience with a variety of international menus that will surely leave you speechless. Being isolated and surrounded by water, My View Lounge offers our guests a place to unwind and
enjoy the fresh sea breeze and is the perfect venue for small gatherings and romantic dinners. It can accommodate up to 60 people at once.
Spring Cafe
Situated on the centre aisle of the resort, the Spring Cafe is the perfect venue for private gatherings, and corporate or group dinners with its indoor and outdoor seating and has a flexible team that can tailor buffet or set menus as per guest liking. The cafe can accommodate about 80 persons within its indoor as well as outdoor seating.
Desert Beach Tent
Create unforgettable moments, with a unique beach tent camping experience, under the moonlit sky. An incredible journey inclusive of
mouthwatering dinner, bonfire, BBQ and much more, all in the ambience of your beach tent.
360° Ocean Dome
Priceless moments, a timeless journey, and an ambience out of this world. A private transparent dome in the middle of the sea, with 360° views of calm waters, along with a three-course dinner, bonfire and Barbeque under a million glittering stars.
Satisfy your adrenaline soul
A wide variety of water sports has been rounded up such as Jet Skiing, Wake Boarding, Scuba Diving, Flyboard, Flow-boarding,
Kayaking, Kneeboarding, and Paddle-boarding. Water sports or activities are the perfect way to cool off, freshen up and have a lot of fun. If you are looking for the best water sports and activities for your summer inspiration. Whether you're in for an adrenaline kick with kitesurfing or flyboarding, or you prefer something more chill such as yachting or snorkelling, there's sure to be the perfect activity for everyone.
Splash Waterpark
Beat the summer heat and enjoy our newly added waterpark attraction perfect for kids and adults alike.
Make shore to have a memorable wedding
"A beachfront setting like no other" A unique gathering venue, where there is an event for everyone. Jaw Resort & Spa offers one of the most memorable settings in the Kingdom of Bahrain. Enjoy a unique beachfront outdoor or indoor location with a glittering sky, our resort's stunning venues, world-class service and excellent catering will help make your wedding or event truly unforgettable.
We want your special day to be everything you have ever dreamt of, which is why we offer every couple the services of our experienced
events team. With our help, your wedding will be a day to remember.
As a gourmet destination, we are incredibly proud of our food. Our talented catering team can help you with signature menus, as well as catering for different cuisine and culinary requirements.
Venues:
The most stunning setting for a wedding or an event is the Open Beach Area which can capacitate accommodation of 600 people. Khaimah AlBahr, the Beachfront Tent with indoor and Outdoor seating can make room for about 1000 people. Another popular space for weddings and events within the premises is Al Bareh Restaurant's indoor and outdoor area and Beach Front which can make room for 700 people.
My View Lounge and the Spring Café can accommodate around 140 people. Menu prices vary depending on the venue
and menu chosen by the guests.
Events reservation includes basic restaurant or banquet setup according to the number of guests. Packages, prices, and menus can be tailored as per guests' requirements.