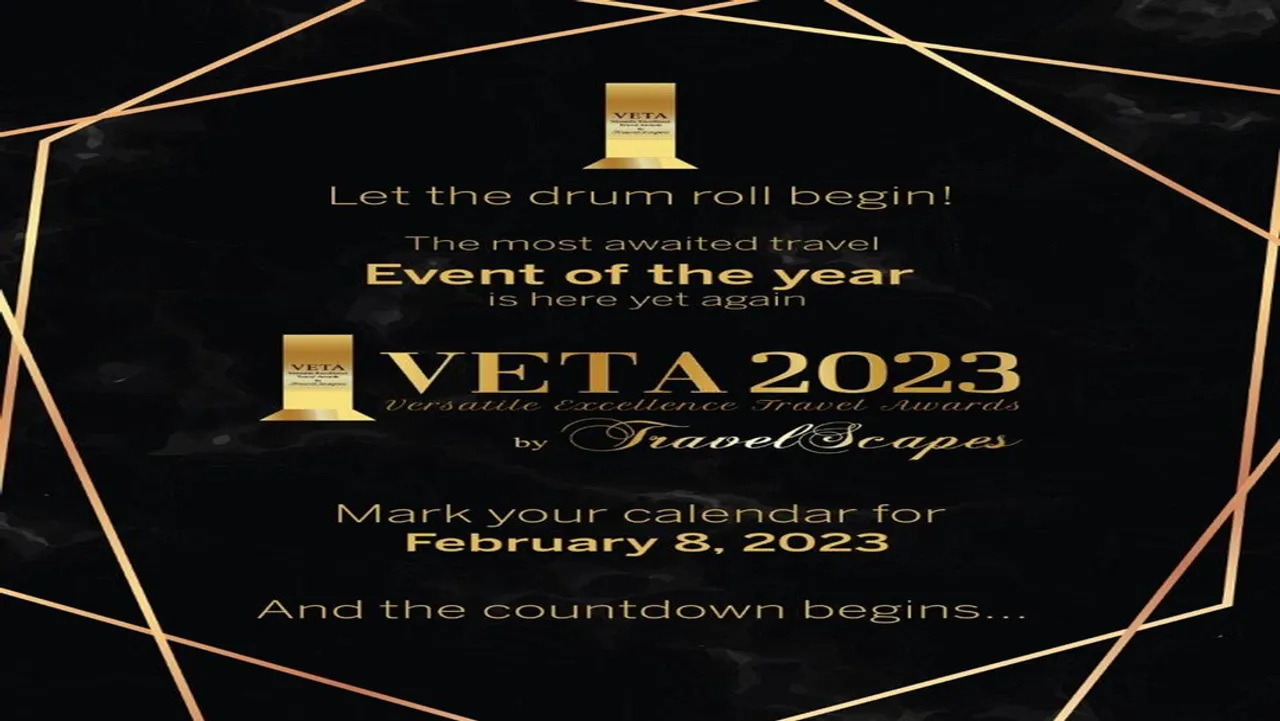 Like the yearly contributions that the travel and tourism industry has to the global economy, TravelScapes, after two years, returned yet again to honour the exceptional businesses within the travel, tourism and hospitality niches and the enterprises responsible for making your dream vacations come to life. Over 250 professionals and veterans from across the industry gathered at the glittering gala night of VETA- Versatile Excellence Travel Awards. Total 25 frontrunners were felicitated at this glittering ceremony held on May 17, 2022, at The Imperial New Delhi.
Now in its 4th year of celebration and considered the hottest ticket, the coolest gala-night, or literally, the "IIFA of the travel and tourism industry calendar", VETA has set exceptional benchmarks. From making a memorable debut in India in 2018 to taking the award show all the way to the Middle East, VETA garnered so much love and appreciation and with each passing year, we persistently kept upping the game. This year was a special one too! VETA 2022 made a show-stopping re-launch after overcoming the grappling chaos of the pandemic. The award night not just recognised the best in the industry but also celebrated their resilience and zeal to stand back strong after a two-year hiatus. To applaud their "never backing out" spirit, Team TravelScapes prepared a special video dedicated to VETA 2022 audience. The night got more desirable and even better with the presence of very versatile hosts, the amazing TV Anchors and Bollywood actors- Maniesh Paul and Sophie Choudry. While Paul entertained the audience with his rib-tickling punch lines and gags, the beautiful diva Choudry added a tinge of extra glitz and glam to the show. And how can any of our VETA editions be complete without
the celeb friends? This year, VETA welcomed Zayed Khan, Rohit Bose Roy and Elli AvrRam as the special celebrity guests. Also, Jazeera Airways and TripJack came on board as the premium sponsors for the event while Amritara Hotels & Resorts tempted the guests with their exclusive lounge at the venue.
The remarkable award night began with Germany being recognised as "Most Preferred Destination for Business & Leisure- 2022" followed by TripJack winning the title - "Most Innovative & Promising B2B Travel Portal- 2022" and Finland bagging "Top Emerging Tourism Destination in Europe". Next in Line was Kazin DMC being conferred as "Leading Destination Management Company for Kazakhstan"; Jazeera Airways - "Leading Low-Cost Airline In The Middle East" and TBO Group as "Leading B2B Travel Service Platform- 2022". "India's Fastest Growing Experiential Luxury Hotel Chain" was conferred to Amritara Hotels & Resorts; "Best 5* Premium All-Inclusive Resort in the Maldives" to Cora Cora Maldives and "Top Bucket List Destination For Honeymooners- 2022" title was bagged by Japan. Southern Travels secured the recognition of "India's Top-Rated Domestic Tour Operator" followed by Fortune Hotels which was recognised as the "Best Upscale Brand in India". Next and the most prestigious award
in the first set of awards was "Lifetime Achievement in Hospitality" which was felicitated to the most dynamic hotel industry veteran whose tactful leadership and decades of experience brought instrumental changes to the ITC brand- Nakul Anand, Executive Director at ITC Limited.
"Most Exceptional All-Inclusive International Hotel Brand" was conferred to RIU Hotels & Resorts whereas the "Most Promising Mid-Scale Hospitality Chain" was secured by Summit Hotels and Resorts. "Middle East's Leading Airline for Customer Experiences" was bagged by Oman Air; "Most Exceptional Heritage Project In India" was presented to Heritage Transport Museum; "Most Trusted DMC for South Africa Luxury Travel" was given to Southern Africa 360 Luxury Holidays; "Leading Global Assistance & Insurance Provider" was presented to Asego; "Leading Lady in the Tourism Industry" was secured by Priyanka Nijhawan- Director- Representations, Nijhawan Group; "Most Trusted Global DMC" was given to One Above Destination Management Services; "Leading Travel Tech Provider-2022" was presented to Quadlabs and "Outstanding Retreat for Recreational Activities in Maldives" was felicitated to Hideaway Beach Resort and Spa Maldives. Fiji secured the much-deserving title of "South Pacific's Leading Island Destination" followed by Flyremit.com bagging the award for "India's First Digital Travel Remittance Platform – 2022" and Jetsave India Tours for "Best In Visa Facilitation-2022".
Year on year, after delivering outstanding shows, VETA, this year, proved its worth again! A night of networking, socialising and recognition – with some of the amazingly energetic dance performances concluding the show with all the gusto and cheer! Seemed like a fitting end to a truly memorable night!
"The Versatile Excellence Travel Awards has seen the extremely high standard of entries once again, even amidst the fears of COVID infection disrupting the industries again. This has been a difficult time for the tourism industry and we're really proud and grateful to be able to celebrate in person with the very best in our travel, aviation and hospitality sectors once more. We look forward to a brighter edition of VETA in 2023", the CEO & Publisher Varun Malhotra said.
Pranav Khullar, Director, TravelScapes expressed his happiness by saying that he is proud of the number and quality of entries to VETA 2022, particularly in light of the significant challenges of the past two years and thanked all those who made it possible. "We have bigger plans for 2022 and VETA was just a magnific trailer to what is in store for the year ahead. With this, we look forward to seeing a greater turnout for the 2023 award show," he revealed.